SECOND POST – MARCH 26, 2013 –
NEWS STRAIGHT FROM THE BATTLEFIELD; KUWAITI RAT CONFIRMED DEAD IN DER'AH; ASTOUNDING VICTORIES FOR THE SAA TERRIFY NATO AND ARABIAN APES; LOSSES TOO HEAVY FOR TERRORISTS
DER'AH:  KUWAITI FILTH DROPPED AS HE WAS RUNNING FOR JORDANIAN BORDER.
SyrPer can confirm that a Jordanian-based cockroach by the name of Faisal Hamad Al-Rasheed was shot after he dropped his rifle and ran for the Jordanian border.  He was told to stop and surrender but he knew that Hell would hold no surprises for him if captured by our very efficient border police.  It took one bullet to sink this insect.  The incident took place south of Der'ah City.   
We present to our readers Mr. Faisal Hamad Al-Rasheed, formerly of Kuwait, as he looks before he goes down the toilet to the sewer in Hell.  
Hayy Al-Arba'een:  In a particularly stunning ambush, SAA and militia surrounded and then annihilated an entire pack of rats belonging to the "Liwaa Al-Tawheed" (yawn).  Over 26 carcasses were found and here are the names of those with identification:
Waa'el Hijaazi
Ishaaq Abdul-Hameed Houraani
'Izzaat Fouad Mahaasena
Mu'tazz Haleem Miqdaad
Muhammad Hassan-Ali
Shaykh Saaleh Al-Kufun
Muhammad Issa Kaayed
Ahmad Moussa Jabreen
Tareq Abdul-Rahman Al-Khishen
Sulayman Mahmoud Badawi
The remaining 16 carried no papers.  According to Monzer, 8 were burned beyond recognition.  
HORRIFIC RAT-STATS FOR HOMS.  GLORIOUS DAY FOR CITIZENS AS SAA POUNCES ON AND EXTERMINATES RODENTS:
 Syrian infantrymen and sharpshooters look out into the Homs countrside for scurrying vermin.  
Something is making the rat terrorists in Lebanon head like lemmings into the void.  Both Monzer and Wael say that the death toll among the terrorist mercenaries reached 2,100, a figure realistically discussed at General Intelligence.  Monzer says that many officers in security quietly celebrated the numbers.
BABA AMR:  Confirmed that all rodents are out.  Complete calm restored after major campaign by the enemy to re-occupy the suburb.  These remnant rodents took the red-eye flight to the Eternal Basement:
Hassaan Al-Khaled
Maajed Al-Mahaamesh
'Aatef Al-Halabi
At Brazil Street, a carload of pests tried to run down some soldiers.  The soldiers fired at them before they could approach and killed the following:
Akram Mahmoud Hawwaash
'Umar Al-Sabi'
Muhammad Waleed Jarraah
Another 2 could not be identified.  Believed to be Lebanteez rodents.
At Jawrat Al-Araayes:  Assault by SAA on a known rat den caught the scum by surprise as they were trying to get some sleep after a long night of pillaging:
'Issaam Abdul-Kareem Hamawi
Khaldoon Haddaad
Ali Hassan Al-Mahmood
Muhammad Hussayn Duhaishy
Mahmoud Uzayri
Jameel Ahmad Ikwaari
Raadhi Shihab
Another 7 could not be identified.
Sultaaniyya:  
Ghaazi Abdullah Rajab
Hammaad Mahmoud Koussa
Noureddine Ali Uraabi
Muhammad Abdul-Samad
Mas'oud Shaykh-Al-Waadi
48 others could not be identified.  Their bodies are going to be cremated en masse to avoid problems with contagion.  
At Al-Qusayr, another den was exposed and neutralized:
'Aaref Maalek Shabroon (?)
Mahmoud Ali Al-Mukhtaar
Ali Naa'oom
Hamdi Abdul-Wakeel Jayyash
Ma'an 'Aatallah Nassnoos
Habeeb Khaleel Al-Batsh
2 others lacked papers and believed to be Lebanteez.
Al-Kammaam in rural Al-Qusayr, 7 IEDs and a communication depot were uncovered by GI.  No rats were inside the den.
Al-Sayl in the area of Hasyaa', the SAA killed the following undesirables:
Abdul-Fattaah Ali Al-Musaari'
Nabeel Suhayl Majdhoub
Zhaafer Hilaal Qandeel
"Abu-Rahmeh" (id pending)
Sameeh Mitwaari
Muhammad Adeeb Sinno
The remaining rats were unidentified.  There were 6.
Al-Sinaa'ah near Al-Qusayr, another 7 IEDs were dismantled
Tadmor (Palmyra), the SAA routed another pack of rats as they tried a second time to destroy the oil pumping station.  It was a slaughter-fest. Monzer says that over 63 terrorist mercenaries were killed or wounded.  He has no list, but his cousin is stationed at Tadmor and gives him very reliable information.  
Tal-Al-Nabi Mando: SAA and security agents delivered the goods, big time.  The following hyenas went to Scavenger Heaven after 2 Hind helicopter gunships laid waste to their ranks:
"Al-Almaani" (id pending.  "The German".  He was identified by a warbler)
Mustafa Jalaal Hifna (?)
"Abu- Fattoum" (id pending)
Muhammad Al-A'raj
Ali Muraad Shamseddeen
Ahmad Ibraahim Ali Al-Khaal
'Amr Tawfeeq Mahboos
Jihaad Muhammad Ikraambayk
Another 32 were killed on motorcycles.  6 taken prisoner. 
Ghanto and Keeseen:  12 killed with no details.
HAMA:
Tayyibat Al-Imaam:  At its southwest, several cars and flatbeds with heavy machine guns were destroyed. All was Jabhat Al-Nusra:
Abi Al-Baraa' Al-Jazraawi (id pending)
Abi Al-Nasr" (id pending)
"Abi Hassan" (id pending)
Abi Bahaa' (id pending)
Abi Al-Layth (was killed with another group)
Another 31 cannot be identified because they were not carrying documents and prisoners did not know their names.
ALEPPO:

A long procession of rat-infested vehicles were was destroyed completely as MiG23s turned them into waste metal on the road to Akhtaareen.  The identifiable ones which were not burned to a crisp were:
Zakaria Haaj-Ibraahim
Mahmoud Al-Shoofi
'Imaad Khartabli
'Aayedh Jaleel
Wathbaan Baladi
Sakhr Faahoom
Khaled Mahmoud
Jubraan Al-Feeja

Another 39 could not be id'ed.  Wael says it was a "massacre".

Ataareb:  7 vans carrying simian excrement were flushed down the sewer pipes by SAA.

Abdul-Muttaleb Al-'Adas
Mutaa' Al-Soos
Muhammad Ali Qalandari
Najdat Qawwaas
Ma'moon Shaami

Another 19 could not be identified.  Of those, 5 were determined to be Turks based on the statements of 11 prisoners. 

Awram Al-Shughraa:  4 vans destroyed by RPGs fired by militia, followed by assault rifles.  A firefight ensued and these carcasses were identified:
Adnaan Hassan Qaaqeesh
Jum'ah Muhsen Afyooni
Mahmoud Haidar Al-Sa'eed
Ramzi Alaayeli
'Aakef Badri
Muhammad Abdul-Mutawakkil Istwaani
Jihaad Ali Sheeshoo

Another 16 were not identified.  4 taken prisoner.  All were FSA.

Al-Duwayraniyya, near the cotton gins, 8 went to Devil Dust.  All were foreign fighters.  Wael says his source in Aleppo reports they looked like North African bearded Barbary Apes.
Khaan Toumaan:  Firefight with 7 rats killed.  No ids, again.
Al-Maqaali':  IEDs and surveillance equipment discovered hidden in camouflaged simulated rocks.  This same type of equipment has been uncovered also in Latakia.
Kafr Hamra:  Very large battle between SAA and combined FSA and Jabhat Al-Nusra.  High casualties on both sides.  The rats eventually retreated or dispersed leaving behind 91 bodies, many burned beyond recognition by phosphorous grenades or flares-and-kerosene.  Wael describes the scene as "unbelievable".
Masaaken Hanaano:  This is the end for the rats in this part of northern Aleppo.  Wael estimates the total killed in all Hanaano to be over 1,500.  Monzer says it is more.
In the Old City, more camouflaged IEDs were found along with walkie-talkie equipment.
DAMASCUS:  ALERT: It is estimated that over 6,000 rats are now massing in the Adra industrial area  after suffering ruinous losses in Jawbar, Douma, Daarayya and the East Ghouta.  We have received confirmed Intel that the Syrian Army HQ is planning to make this a final message to all the rats.  The Pied Piper of Hamelin is coming accompanied by the Orkin Man and Monsieur Terminix with Raid Spray cans in hand.  This is Das Ende!   Residents are being encouraged to evacuate the area. SAA High Command strategy is just brilliant.
ADRA AL-JADEEDA: At Hujr Ibn 'Udayy, these monkeys belonging to Liwaa' Al-Islam sent by overnight post to their big celebration in Erebus:
Khaa'led Ka'ka (And kaka he is now)
Saqr Al-Wali
Ahmad Al-Mudawwar
Jaasem Ali Al-Hindi
Ihsaan Darweesh
Another 18 could not be identified.




Al-'Utayba:  Whoever in the Jabhat Al-Nusra is responsible for getting the rodents stuck in this constricting stranglehold should be given the Umayyad Medal.  Thanks to that idiot, the following bloodsucking leeches were given the Molinex treatment:
Shaadi Ahmad 'Alam
Makram Shihaada 
Abdul-Raheem Majdeddeen Qazzaaz
Saa'eb Muhammad Qadaado
'Awni Abu-Taraafa (believed to be non-Syrian.)
Firaas Junayn
Tayseer Ali Al-Boom (Boom! Boom! The Owl)
Abdul-Hameed Mahmoud Al-Hassan
Jawaad Mahfoozh
Qaassem Ghazaali
Muhammad Hussayn Mallaah
Naayel Abdul-Jabbaar Sultaani
Wadee' Al-Hammood
Muraad 'Afeef Al-'Aagha
Naader Ahmad Al-Umaraa'
Hussayn Ali Sharafeddeen
Safaa' Hamdaan
Labeeb Muhammad Mirzaa
Those are the only Syrians in the pack.  The other 47 were unidentified.  All these rats were bearded.
At Jawbar, remnant rats were cornered and snuffed out:
Sameer 'Umar
Mahmoud Zayd ____(id pending)
Al-Maleeha:  These crawling fungii were plucked in their prime by SAA snipers:

Wissaam Al-Mudallal
Khaaled Khaleel

Jisreen:  More specimens for your insect collection:
Anas Al-Khateeb
"Abu Kinaan" (id pending)
Mahmoud Al-'Ujayli
Abdul-Lateef Muhsen
4 others could not be identified.
Yabrood:  Monzer says 49 rats went down in a sudden ambush.  Helicopter gunships helped.  No details until tomorrow since the bodies are spread all over the mountainside.
HAMA:
In the City, 5 IEDs were dismantled by sappers each weighing between 40-50 kgs.
Awram Al-Jawz:  SAA and militia killed the following necrotic zombie slime:
Waa'il Al-Saadeq
Jabbaar Hammooda
Ali Sidqi Majdalaani
Hassan Muhammad Bajbooj
Kafr Shalaayaa:  Wael reports 16 rats with no identification on Al-Mastouma Road with flatbeds and machine guns  AI people.
LATAKIA:  Boy, those grubs can't get any traction in this province.
At Bayt 'Awwaan, which is in the Qastal Mu'aaf countryside, another warehouse has been uncovered belonging to Jabhat Al-Nusra.  Wael saw the warehouse and estimates the value of the machine guns, ammunition and electronic equipment to be in the hundreds of thousands of dollars.  He counted 41 bodies for us but does not have the identified carcasses yet.
Al Al-Hawar, near Kinsibba, 26 rats were killed.  Here's some of them:
"Abu-Umar Al-Dimashqi" (id pending)
"Abu Hurayra Al-Sirjaawi" (id pending)
"Abu Zubayd Al-Yuzbeki" (id pending)
A 4-wheel drive pickup was also destroyed with 2 carcasses not carrying id.  3 others were taken as warblers.  You can see where Kinsibba is in the map below.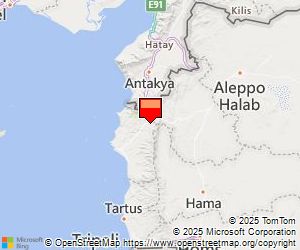 IDLIB:
An FSA member named Maajed Nawfal broke into the home of Muhammad D. who was a rat-leader in Jabhat Al-Nusra.  Maajed raped Muhammad's wife while a confederate video-taped the affair.  Muhammad's wife feared revealing this assault and kept silent.  The next day, Muhammad was shown the video by a sympathizer inside the FSA.  Muhammad was incensed and ordered an attack on the FSA base outside Idlib near Saraaqeb.  Majed, the FSA freak was killed along with another 4 from his unit.  3 members of the Jabhat Al-Nusra were also killed.  The firefight lasted over 3 hours and only stopped after Muhammad was shown the body of Maajed.  He torched the body and had it thrown into the FSA base.
These are the rodents who plan to rule Syria.  Over our dead bodies.
IRAQ, ALGERIA, JORDAN AND OMAN REFUSE TO RECOGNIZE THE LAUGH-INDUCING EXILE GOVERNMENT OF CAPTAIN KANGAROO, "MR. WOG OF THE YEAR" AND GHASSAN SHITTO.  GUTLESS LEBANON ABSTAINS AS USUAL.  MORE ON THIS TOMORROW.   
.