DER'AH:  Oh, the Southern Front!  This is it, baby.  Well, because of the Big Surprise, it's not going so well for the United States-supported and Saudi-financed and Jordanian-trained and Zionist-enabled vultures.  No.  Apparently, new tactics and the insidious nature of the Big Surprise are working to eat away at all the aspirations of the murdering alliance just mentioned.  Throw all their money and "expertise" into this stew and get a failed main course.  So sad.
Al-Masmiyya East:  2 trucks loaded with rats from Jordan turned into brightly-lit coffins for the passengers.  It was a terrible sight to see, according to Monzer as the Hind helicopters hovered overhead.  24 vultures killed or injured.  Area still being assessed. Grizzly business.
Muzayreeb to the northeast at the Irrigation Pumping Center close to the Jordanian border.  The group traveling in the truck was the Liwaa` Al-Mahaamm Al-Khaassa (Special Tasks Brigade, yawn).  The truck was struck by a Kornet rocket which set it ablaze it being filled with ordnance.  All told, 8 cockroaches died inside:
Yusuf Taahaa Shihaada
Tahseen 'Ali Jeelaani
Mustafaa Shadeed
The rest remain unidentified.
Al-Karak Quarter:  The following groups took a nice hit yesterday:  Nusra, of course, Liwaa` Tawheed Al-Janoob, Kataa`ib Mujaahidiyy Al-Hawraan, Kateebat Madfa'iyyat Sijjeel (OH, YAWN!).  All these groups are funded directly by the Saudi apes.  Yesterday, all the dirty money from Riyaadh could not save the estimated 17 microbes killed by the SAA.
'Itmaan – Tafass Road:  SAA scored a direct artillery hit on a pickup truck with the usual Doschka.  No details.
Jadal Al-Shiyyaah Road:  SAA monitoring of Nusra rat movements paid dividends when an infantryman fired a Kornet rocket at the van being prepped for an IED exploded killing all 10 rats who were skulking about the immediate area.  No names.  The explosion was massive leaving body parts strewn all over.  Yuck!
Der'ah City:  SAA scored another direct hit on a gathering of hyenas west of the Al-'Umari Mosque and north of the Al-Arba'een Mosque.  No more details available as the area has still not been assessed.
Inkhil:  Increasing use by SAA of its vast arsenal of artillery.  More devastation to rodents of Nusra.
Al-Shaykh Miskeen:  Reports indicate, once again, SAA reliance on artillery to shake up the fortifications built by the rats before the expected storming of the remaining refuges in which they hide.
Dayr Al-'Adas:  Very close to the Qunaytra area.  SAA operations continuing as Nusra starts to break under the weight of SAA artillery and SAAF strafing.  It will be over here shortly.
Busraa Al-Shaam:  Major advance here in the western neighborhood thanks to more artillery.  The rats are breaking and fleeing.
_________________________________________________________________________________________________________________
DAYR EL-ZOR:  ISIS's inability to overrun the airbase despite the huge investment in ammunition and suicide drivers coupled with the debacle suffered at Kobane has brought about a curious form of constriction.  It seems that with every day that passes, ISIS needs to kidnap more and more young men and women to contain the attrition eating away at the inner core of their organization.  Mass executions and obvious deviations from mainstream Islam, condemnation from esteemed institutions such as Al-Azhar have had their effect as many rand and file begin the dangerous process of disentanglement.
Al-Jafra:  SAA and Popular Resistance Forces (tribes) killed 34 ISIS rodents and wounded scores.  We can confirm the destruction of 10 pickup trucks with 23mm cannons.  According to Ba'ath Party sources, the fleeing rodents left a monstrous quantity of weapons and ammunition for the victorious SAA which is testimony to how much they have received from the Turks and Saudi Arabians.  All the carcasses were of foreigners.
Huwayjat Al-Sakr:  Artillery at the border of Hatla Village wreaked havoc with ISIS lines as the SAA is preparing for the final onslaught here.
To prove our point mentioned herein-above, ISIS has kidnapped an undisclosed number of young men and fathers from the villages of Al-Shumaytiyya, Muhaymeeda, Al-Husayniyya and have forced them to go to Mi'daan Town.  We will follow up on this as information comes in.
_________________________________________________________________________________________________________________
PHOTO OF THE WEEK: A FATHER HOLDING HIS DEAD DAUGHTER MURDERED BY OBAMA & CO. PICTURE SENT BY ARABI SOURI.  MAY GOD DAMN OBAMA AND BURN HIM IN HELL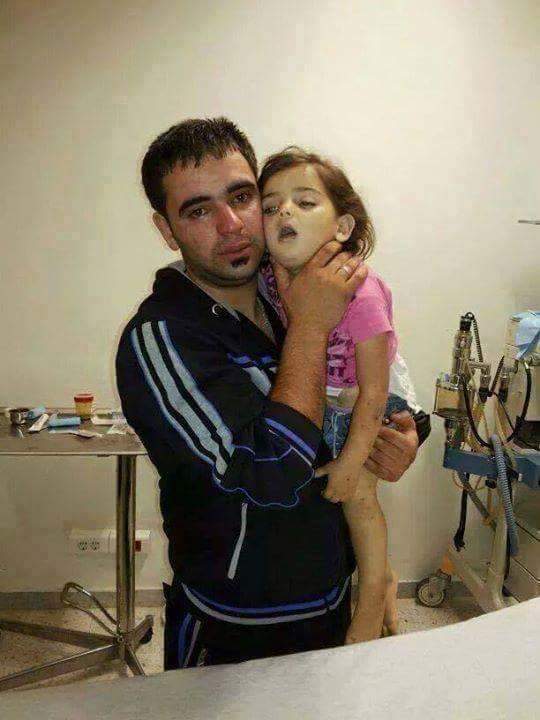 _________________________________________________________________________________________________________________
NEWS AND COMMENT:
John Esq. sends this tart analysis of the Charlie Hebdo affair.  Attending a mafia funeral is about right.
http://takimag.com/article/charlie_hypocrites_taki#axzz3QnYEIjFw
If you're like me and hate scum like that American Sniper, enjoy this also from John Esq.:
http://www.lewrockwell.com/2015/02/gerald-celente/venerating-a-government-killer/
Another nice article from John Esq. to compliment the 2014 Liar of the Year Award given this year to 'Abdullah the Dwarf:
http://www.lewrockwell.com/lrc-blog/king-abdullahs-crocodile-tears-over-burned-pilot/
If Barzaani is right, someone manufactured a lot of Hummers:
http://www.iraqinews.com/iraq-war/isis-recruited-soviet-army-officers-seized-1700-bullet-proof-hummers-says-barzani/
This is great. Shows Dr. Assad has a sense of humor. I don't know if it's really him, but it fits. Note the author describes Fawaz Al-Akhras as the presidents step-father. He's not. That's his father-in-law.  Dr. Assad never needed a step-father (Thanks, Anonymous:
http://owni.eu/2012/07/20/assad-syria-wikileaks-syriafiles-emails/
_________________________________________________________________________________________________________________
FUNNY PICTURE OF THE WEEK (thanks to Dudley):