DAMASCUS:
Mayda'ah:  We told you on numerous occasions that 'Alloosh is a dead man.  Yesterday, that prediction came closer to reality with the Syrian Army's stunning assault on Jaysh Al-Islam rat fortifications at this village conveniently located between Doumaa and Al-Dhumayr.  The entire artery which used to supply both areas, going in each direction,  has been occluded by the SAA.  We can confirm the deaths of 52 rodents with scores injured.  Syrian Popular Defense Committees, (NDF) are now fanning around the area looking for remnant rodents, alive, wounded or dead – preferably the latter.
Courtesy of Wikimapia: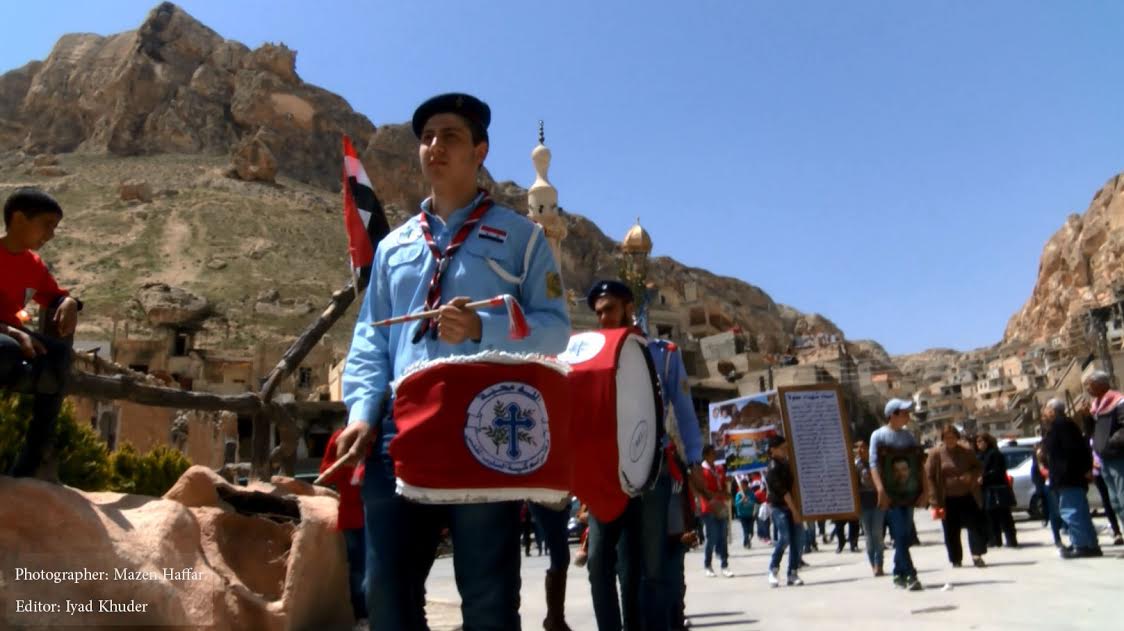 IT'S BEEN ONE YEAR SINCE THE COMPLETE LIBERATION OF MA'LOOLAA.  ENJOY THIS PHOTO AS CHRISTIANS CELEBRATE BEING FREE OF WAHHABIST FILTH.
_______________________________________________________________
DER'AH:  As I write, I am aware that the SAA is working diligently to reposition itselft at 'Aqraba and North Tal Al-Maal in an effort to strike at Tal Al-Haarra.  We predict a major assault in the next few weeks to recover this base which was so important to monitoring the movements of the Zionist rodent army on the Golan and the aerial maneuverings of the Ghetto State Air Force.
Al-Thu'ayla Water Reservoir:  Southwest of the Yarmouk Suburb of Der'ah City.  At least 10 rats were killed here when SAA infantry spotted the movement of rodents and pitilessly hammered them with heavy and light arms fire.
Nu'maan Saalih Al-Nabki
Talaal Muhammad Al-Ameen
Shurahbeel Hussayn Al-'Uthmaan 'Abdul-Mun'im
The others were not named. Area still being assessed.
Suwaydaan Street in Der'ah City:  SAA pounced upon a nest of vultures and killed every one of them.  A truck with weapons and ammunition from Jordan was also destroyed.   Terrorist-cannibal websites admitted to losing these:
Muhammad Al-Jaseem
Faayiz Thalji Al-Ibraaheem  (leader of Liwaa` Al-Mu'tazz Billaah, yawn)
Moussaa Murayheel
Sakhr Ahmad (a/k/a "The Kosovar")
Fighting also reported at the Al-Masri Roundabout.
Der'ah Station Neighborhood:  6 mortar launchers were either destroyed or seized by the SAA. These rodents are now in Hell:
Zaayid Al-Masri
Kifaah 'Abdul-Rahmaan Al-Soos
Majdi Salaah Al-Hareeri
Qusayy Ahmad Al-Rasheed
Fahd 'Ali Al-'Aneed (He went stubbornly)
The other 4 could not be identified.
Tal Al-Maal:  Yesterday, the SAA killed 2 and wounded 12 in a firefight.  This village is going to fall soon.
'Itmaan:  All rodents in a nest were exterminated by the Syrian Army's Orkin Division:
Yazeed Ahmad Qarqoot
Hussayn Maajid Al-'Abid
Tayseer Muhammad Jum'ah
Wafiy Shadeed
Another 3 could not be identified.
Meteorological Reservoir on Dam Road in Al-Karak Quarter and Al-Arba'een Quarter:  Many rodents killed by SAA in an ambush.  No other details.
Fighting reported here:  Umm Al-'Awsaj area, Kafr Shams, Zimirreen, East Al-Ghaariyya, 'Almaa, West Al-Ghaariyya, Al-Soora, Al-Hiraak.
Der'ah Station:  An attempted infiltration by Nusra hyenas to Busraa Square was a disaster for the scavenging vermin.  Many killed or wounded and weapons seized.  No other details.
___________________________________________________________
LATAKIA:
The Syrian Army has confirmed its takeover of the strategic Al-Nabi Yunus Peak.  The SAA is expanding as I write in an effort to vanquish every single Turk-supported terrorist rodent in the northern mountainous  area of Latakia Province.