DAMASCUS:  The Syrian Army is on the verge of taking back Doumaa, the last stronghold of the cretinous Saudi-funded Jaysh Al-Islam, once led by the supercilious knucklehead named Zahraan 'Alloosh whose remains are yet to be found.   The Syrian Army has confirmed entering Tal Kurdi which is the entryway into Doumaa.   Intercepted chatter from JI "commanders" indicates a serious attrition problem which cannot be remedies given the present geo-strategic military configurations here.  It is only a matter of a short time before nobody is left to fight for the Wahhaabist cause.
Courtesy of Wikimapia:
Harastaa:  The Syrian Army disclosed today that it found a 160 meter-long tunnel used by rodents to hide weapons from Saudi Arabia and the Zionist Ghetto State.  The tunnel was 14 meters deep and was dug by Jaysh Al-Islam whose luck has been somewhat shaky lately.  All weapons and ammunition were seized and turned over to the PDC for use in killing Wahhabist monkeys.
Khaan Al-Shaykh-Dayr Al-Khabiyya:  The terrorist presence is showing signs of lassitude.  Terrorists are sneaking away to hide in their hometowns leaving mostly foreign trash to do the fighting.  Major news should be coming out of here soon.  Palestinians are playing a major role in providing our army with valuable Intel concerning rodents logistics and whereabouts.
Maghaarat Al-Meer and Bayt Jinn Intersection:  SAA has destroyed a Nusra/Alqaeda command-control center along with a large cache of weapons and ammo.
_____________________________________________
LEBANON FINALLY GETS ITS PRESIDENT.  WHY SAAD HARIRI BROKE DOWN.  WHY HE'S ALMOST BROKE!
Syrian Perspective takes pleasure in congratulating the people of Lebanon on their newly-elected president, General Michel 'Awn.  That he was finally able to take his deserved place at Ba'abdaa Palace was due to the collapse of Saudi influence in the Lebanon.  It is well known that Sa'ad Hariri is shunned today by the Saudis for his failure to properly assist the Syrian "opposition" in Lebanon, especially in Tripoli, the northern capital.  Without Saudi funding, Hariri knows he cannot survive much longer as a political heavy-weight.  He is unable to pay many of his own apparatchiks in Beirut and has begun to slowly divest himself of all the burdensome accoutrements of being the "spoiler".  He has managed to negotiate for himself the position of Prime Minister which he will use to assuage any hurt feelings in Damascus.
Following suit, even Sameer Ja'ja', has lifted his objections to General 'Awn.  The Lebanese warlord has come to the realization that the Syrian army and political system has defeated Saudi Arabia's plan to replace Dr. Assad.  It is being reported by our sources, that Sameer Ja'ja' is planning a long vacation in France where he expects to live out a normal lifespan with all the ill-gotten goodies he has siphoned away.  Ja'ja' also lives in fear of the vendetta still festering in Zghartaa over his brutal assassinations of Tony Faranjiyya and his family and Rasheed Karaama.  Once the Syrian Army has vanquished the Saudi and American supported terrorists,  it is expected that the Faranjiyya family will make good on its promise to avenge one of its most prominent sons.
_______________________________________________
PHOTOS OF THE DAY:
American-backed "moderate" terrorists fire at civilians in Aleppo.  (Thanks, Alex Kharegi)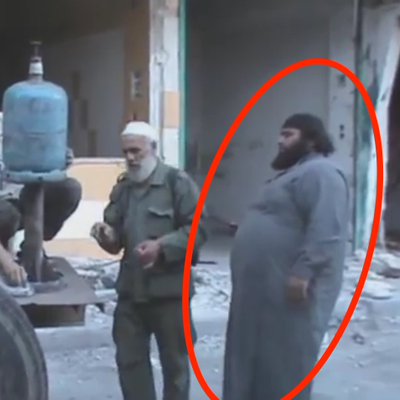 Navsteva writes about this Syrian man who is being starved by Assad.